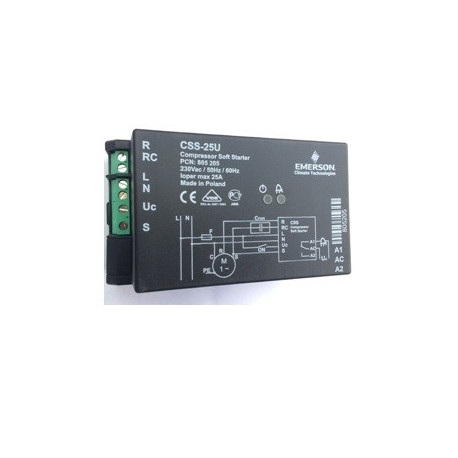  
CSS-25U Alco electronic softstarter 805205
CSS-25U Alco Emerson softstarter for monofase compressors  

PCN 
(805205/ 805209)
replace ESC-255 PCN805175
for 1-phase compressors
Also for Scroll compressors.
 IN STOCK

EXPERT ADVICE
Professionals in refrigeration technology

SINCE 1986
Since 1986 in refrigeration technology

CUSTOMER SERVICE
+31 413 266 426

FACTORY GUARANTEE
Always original manufacturer's warranty
CSS25U Alco electronicsoft starter for Copeland compressors (805205/ 805209)
 Emerson CSS-25U 
A unique feature is the alarm relay output, which allows signaling operating conditions to a supervisory system.
Emerson is proud to announce, that the well known and proven Compressor Soft Starters are now available in a version which the independent test lab VDE has approved per EN 60335-1 and EN 60335-2-40
The Compressor Soft Starter CSS is used for switching, protection and start current limitation of single phase compressors in heat pumps, refrigeration and air conditioning applications.
It is intended for compressors with maximum operating current up to 25A CSS will limit the start current to less than 45 A. 
It can be used in 50 Hz or 60 Hz supply mains without manual adjustment or calibration, as it is self adjusting to motor current. 
The internal start capacitor provides improved motor start torque and is switched off after start.
The Soft Starters automatically limit the start current based on the connected compressor size.
In case of alarm a signal is indicated by the red LED.
Emerson pcn 805205
replace ESC-255 PCN805175
 IN STOCK